NEW DELHI: Smartphones have become one of the most essential and indispensable personal electronics of our daily lives right now.
Be it to our bed or even in the washroom, we tend to carry them everywhere with us but we do forget that these devices also come with a potential risk: exposure to radiation with their respective Specific Absorption Rate or SAR value.
According to a comprehensive cellphone radiation report by the German Federal Office for Radiation Protection (Bundesamt für Strahlenschutz), it shows the amount of radiofrequency waves emitted by both new and old smartphones.
The report by Statista included current smartphones models from Apple, BlackBerry, Google, Samsung, LG, Motorola, OnePlus, Xiaomi, ZTE and more as of December 10, 2018, while the results have left us surprised.
It tagged the Xiaomi Mi A1 and the OnePlus 5T as the two smartphones as the worst offenders in terms of cellphone radiation.
The Xiaomi Mi A1, which was launched in India in the year 2017 recorded the highest SAR at 1.75, dominated the list showing top 16 most radiation emitting devices followed by the OnePlus, also Chinese smartphone maker.
The OnePlus 5T recorded the highest SAR at 1.68, the Xiamo Mi Max 3 at 1.58, the OnePlus 6T at 1.55, and the HTC U12 Life at 1.48 emitting the most radiation.
List of 16 smartphones with the highest radiation levels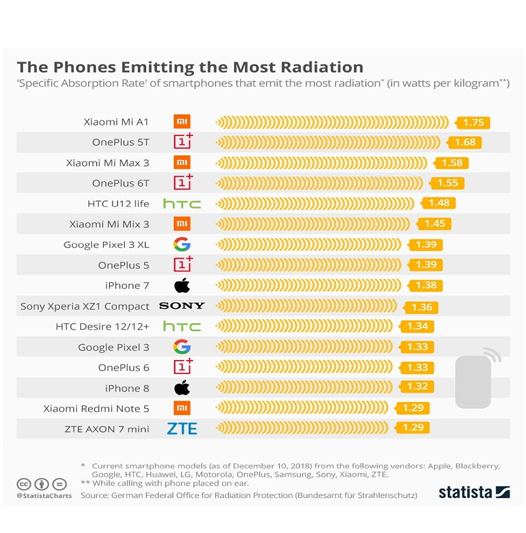 While the other popular devices at the top of the list include Google Pixel 3 XL, OnePlus 5, iPhone 7 and Sony Xperia XZ1 Compact.
[also_read url="https://www.siasat.com/news/xiaomi-undisputed-smartphone-leader-india-1460029/"]Xiaomi undisputed smartphone leader in India[/also_read]
Samsung Galaxy Note 8, ZTE Axon Elite and LG G7 emit the least amount of radiation at 0.17, followed by the LG G7 and Samsung Galaxy A8 at 0.24, and the Samsung Galaxy S8+ and Samsung Galaxy S7 edge at 0.26.
List of smartphones with the lowest radiation levels: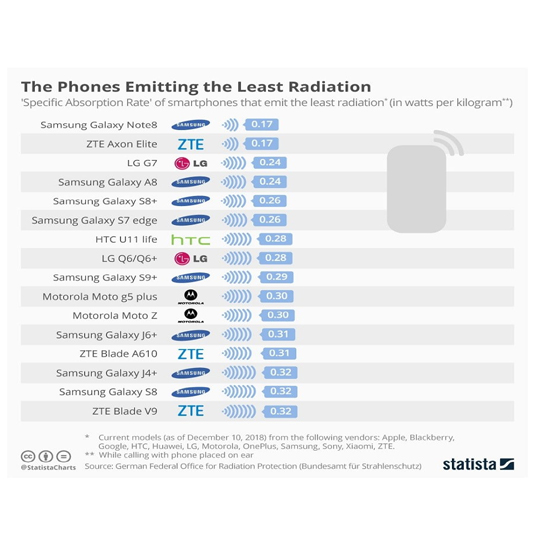 It is important to note that there is still no universal guideline that sets a "safe" level for cellphone radiation. As an example, the German environmental agency Blue Angel only certifying smartphones with SAR of less than 0.60.