Hyderabad: The Society to Save Rocks conducted 'Rock Walk' in MANUU Campus on 17th March 2019 to highlight the importance of Rock Conservation. The walk started at 3.30 pm and lasted till dark.
The aim of the Walk was to show walkers the stunning granite formations that still exist in the landscape of the campus and how to preserve them. Rock conservation is the New Year resolution of the society.
Ms. Frauke Quader, Secretary, Society to Save Rocks along with nature lovers visited Maulana Azad National Urdu University to participate in this walk. This short but interesting walk in MANUU campus aroused the curiosity of the participants.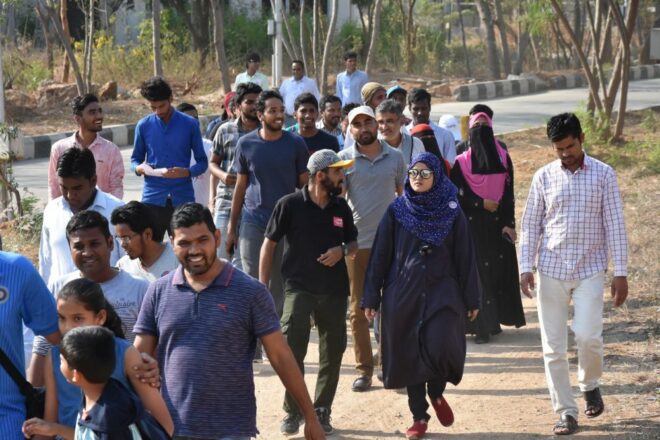 Prof. Mohammad Fariyad, Programme Coordinator, NSS Cell along with the team of NSS Volunteers has coordinated and participated, making the walk memorable and successful. Dr. E. Satya Prakash, Associate Professor, HCU, Mr. G. R. B Pradeep, Joint Secretary, Rock Society, Mr. Ravi Setlem, Member, Rock Society, Dr. Alimuddin Khan, Dr. Afroz Alam, NSS Programme Officer, Mr. B. Bikshapathi, NSS Officer, Mr. P. Habibullah, Section Officer and others also participated in the walk.