NOIDA: In India, many youngsters dream of cracking civil services examination to join the administration and serve the country. They push their limits to achieve their dreams and work hard to clear the exams by hook or crook. But not as much as Zoya!
35-year-old Zoya Khan from Greater Noida was arrested on charges of masquerading as an Indian Foreign Service (IFS) officer and a UN official for eighteen months on Thursday along with her husband Harsh Pratap Singh.
According to India Today reports, Zoya, a native of Meerut holds a masters degree in Political Science from Delhi University. A civil service aspirant, Zoya desire of being an officer but failed in her civil services exams in 2017.
She couldn't move over and therefore, with the help of some old tricks and the latest tech managed to forged documents and ID cards to gain all that she wanted.
[also_read url="https://www.siasat.com/news/upsc-junaid-ahmad-jamia-academy-3rd-topper-know-secret-behind-his-success-1484816/"]UPSC: Junaid Ahmad from Jamia academy is the 3rd topper; know the secret behind his success[/also_read]
She proves her identity with a fake email ID that she holds a designation as "joint secretary with the foreign ministry" posted as Nuclear Policy Officer at the "United Nations Organization Security Council and that of a US diplomat in Afghanistan."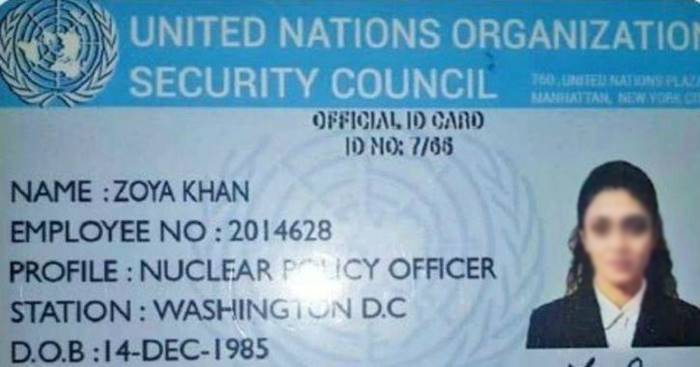 The couple used to live in a rented 3 BHK apartment and availed VIP facilities. Khan used to travel with a government gunner and with the police escort around and also used to make police officers salute her, the reports added.
Zoya's elaborate con job got busted after she yelled at Gautam Buddh Nagar (Noida) SSP Vaibhav Krishna for delaying police escorts.
Smelling something fishy, the SSP begin investigating her actions. The cops soon raided her apartment after finding out that the domain used to send emails "securitychief@unitednationssecuritycouncil.org" to officials was registered in her name with GoDaddy.
Apart from the fake identity cards, police also recovered fake pistol, laptops, laptops, phones, walkie talkies from her place along with two luxury cars, reported TOI.
Zoya was arrested with her 29-year-old husband who worked as a banker earlier but left his job two years ago for civil services coaching. The accused were booked under Indian Penal Code sections 419, 420, 467, 468 and 471 respectively.