NEW DLEHI: Posters with 'Indira is back' written on them were seen at Congress' headquarters in Lucknow soon after Congress appointed Priyanka Gandhi as General Secretary for Uttar Pradesh east on Wednesday.
The phrase 'Indira is back' with Goddess Durga is obviously the reference of former prime minister Indira Gandhi who was grandmother of Rahul Gandhi and Priyanka.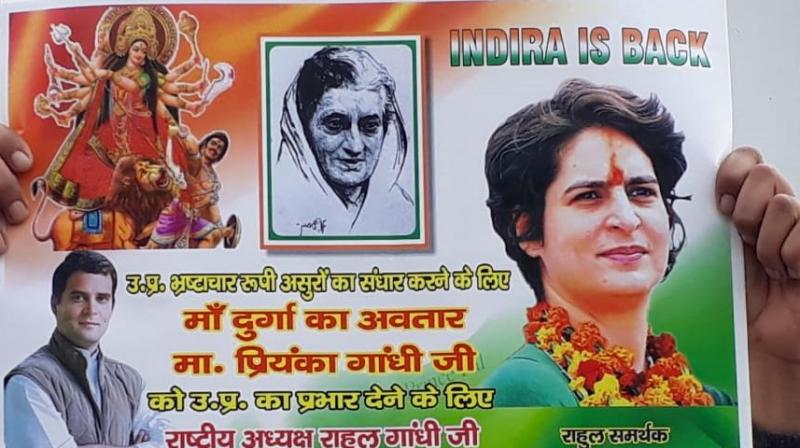 Allu Miyan, who has been with the Gandhi family for over four decades, was thrilled, saying, "Indira Gandhi waapis aa gai Bharat ki rajneeti mein (Indira is back in Indian politics)," reporteed Times Of India.
Distributing sweets to share his joy, Allu Miyan said: "She epitomises Indira from top to toe. I've seen both. Her face, body language, mannerisms and voice mirror Indira."
Congress party workers appear in an upbeat mood following Priyanka Gandhi-Vadra's political debut. Party workers were seen dancing, cheering, distributing sweets at various places across the country.
Delhi: Congress party workers celebrate outside party headquarters after #PriyankaGandhiVadra was appointed party's General Secretary for Eastern Uttar Pradesh today. pic.twitter.com/2bpSYgfP2O

— ANI (@ANI) January 23, 2019
Congress workers celebrate in Raebareli after #PriyankaGandhiVadra was appointed the party's General Secretary for Eastern Uttar Pradesh pic.twitter.com/8SkLBHjhpK

— ANI UP (@ANINewsUP) January 23, 2019
Priyanka was appointment as an AICC General Secretary and Jyotiraditya Scindia as general secretary of Uttar Pradesh west.
Many congratulations to Shri K C Venugopal, Smt. Priyanka Gandhi Vadra and Shri @JM_Scindia on their new appointments. We're fired up & ready to go! https://t.co/q7sMB8m6DO

— Congress (@INCIndia) January 23, 2019
Congress president Rahul Gandhi earlier said that the party wants young leaders in Uttar Pradesh.
The Congress has an uphill task in Uttar Pradesh after the Samajwadi Party and the Bahujan Samaj Party announced an alliance earlier this month without taking the grand old party on board. Snubbed by the SP and BSP, the Congress initially declared that it would contest all 80 Lok Sabha seats in U.P. and then said it was still open to alliances with other like minded parties.
With agencies input