INDIA : With the elections approaching, who to vote is the question in many minds. Obviously, there is no perfect contestant for the seat. But, we can choose the lesser of the two evils. We need someone who at least does not cause as much harm as Modi Government did to the farmers, youngsters and many other sections of the country to be named.
A new trend of renaming twitter accounts with 'Chowkidar' began by the BJP leaders and Modi Bhakts. Modi says he is a Chowkidar (Guard) of the Country, whereas he did not think about those Chowkidars once in his five years of rule. According to the Economist Intelligence Unit, Democracy rank of India was #27 in the year 2014 and by the year 2018, it fell to #41. Recently, the UN released World's Happiness Index report of 2019 and India which ranked #111 in 2014 now stands on #140. If the same government continues to lead India then it won't take time for India to acquire the title of 'the most unhappy Country'.
In the same report, Pakistanis were on #67 which is ruled by Prime Minister Imran Khan. That's the difference between an Oxford Graduate and a Chaiwala. Leading a country is not as easy as making chai and Mister PM proved that he isn't our cup of tea.
Below is the Happiness Index report of Pakistan, Bangladesh, India and Sri Lanka.
Happiness Index of the same countries changed drastically in 2019. Sri Lanka which was on #137 came to #130, Bangladesh from #108 came to #125 and Pakistan became much happier & satisfied in these years and ranked on #67 from #81. Talking about India, it became dissatisfied with time as it ranked #140 from #111. Comparatively, India is the least happy country. Happiness, according to the UN is measured based on six variables; namely,
GDP per Capita
Healthy Life Expectancy
Freedom to make life choices
Social support
Generosity
Perception of Corruption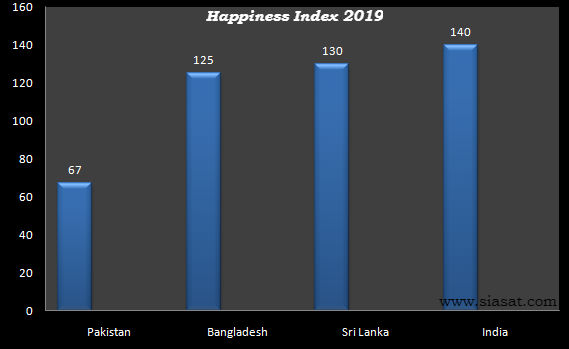 We certainly do not want to be the most unhappy country and for that we need to make the right choices now.
This time we need a Prime Minister and not a Chaiwala /Chowkidar. Let's vote for a better future, let's not waste another five years. "Abki baar behtar sarkar!"