NEW DELHI: Hamid Nihal Ansari, who spent around six years in Kohat Central Jail in Pakistan made it to Makkah with his family for thanks-giving.
Almost two months after returning home, Hamid went with mother Fauzia, father Nehal and brother Khalid Ansari. It was Hamid's mother wish to visit the holy city of Makkah after her son's safe return. Shortly before he repatriated to India, Fauzia told reporters that the prayers of the family and of all those who wished for his safe return had been answered.
"I am immensely happy today. I don't have words to describe my feelings," she said.
Hamid who has been active on his Facebook account on February 9 shared pictures of his trip to Makkah. In a picture where he is standing at Baitullah next to the Kaaba– Islam's holiest site – Hamid said, "Being one of lucky ones."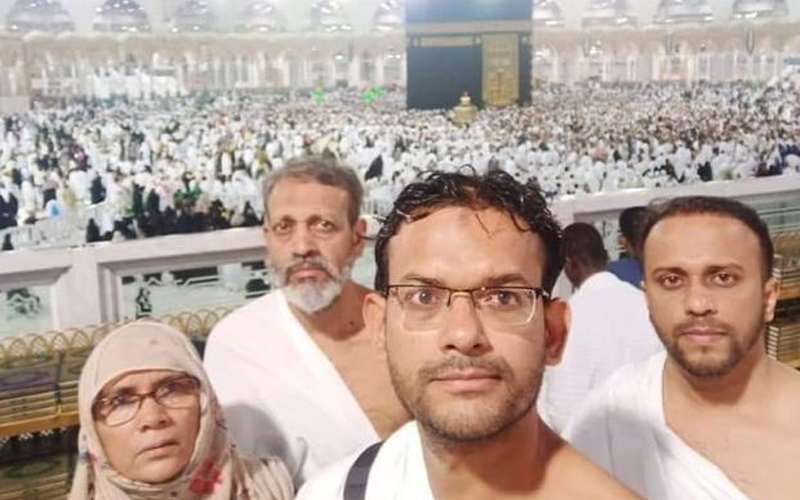 Ansari, 33, was slapped with charges of espionage and involvement in anti-state activities and was awarded a three-year imprisonment by a military court in 2015 in Pakistan.
[also_read url="https://www.siasat.com/news/hamid-nihal-ansari-jailed-pakistan-be-repatriated-india-1446682/"]Hamid Nihal Ansari jailed in Pakistan to be repatriated to India[/also_read]
Ansari, a software engineer by profession was a teacher at the Mumbai Management College, went to Pakistan in 2012 to meet a woman whom he had befriended through social media Facebook. He went missing after being apprehended by the Pakistan intelligence agencies and local police from Kohat district in November the same year.
The Pakistani security agencies claimed Ansari had used fake identity card in the name of "Hamza" and he had entered Pakistan through Afghanistan without travel documents. They charged him for "anti-state activities".
The news of the Ansari's arrest came to fore after his mother filed a habeas corpus petition in the High Court here. On January 13 the Court informed that Ansari was in the custody of Pakistani Army and was being tried by a military court.