After the mahagatbandhan rally in Kolkata organized by the TMC, social media user Gaurav Pradhan tweeted a screenshot of a television news broadcast attributing a statement to West Bengal CM Mamata Banerjee which read, "ईमान का नाम है मुस्लमान (faith is a synonym for Muslims -translated)". Pradhan, who is followed by Prime Minister Narendra Modi, is no stranger to misinformation. A compilation of such instances can be read here
Mamata Banerjee spoke about all faiths
The screenshot tweeted by Gaurav Pradhan is misleading as the statement credited to Mamata Banerjee is incomplete. We found a LIVE video of the 'United India' rally shared by Banerjee's official Facebook page.
[get_fb]https://www.facebook.com/MamataBanerjeeOfficial/videos/1991651534474692/[/get_fb]
At 3:55:24 mins in the video, while speaking in Hindi, Banerjee said, "त्याग का नाम है हिन्दू, ईमान का नाम है मुस्लमान, प्यार का नाम है ईसाई, सिखो का नाम है बलिदान, यह है हमारा प्यारा हिन्दुस्तान (Sacrifice is a synonym for Hindu, faith is a synonym for Muslims, love is a synonym for Christians, martyrdom is synonym for Sikhs. This is our beloved India.-translated)". Moreover, the screengrab belongs to a live NDTV broadcast of the United India rally. This claim was earlier debunked by India Today.
Not just Urdu script at the rally
A Twitter handle @mirchagalib tweeted two images of the same rally where all the opposition leaders were holding hands in a chain formation. In the second image, a logo of All India Trinamool Congress (AITC) written in Urdu was focused on. The claim suggests that Urdu scripts will 'take over' neighbourhood shop signs, if PM Modi is not elected back to power.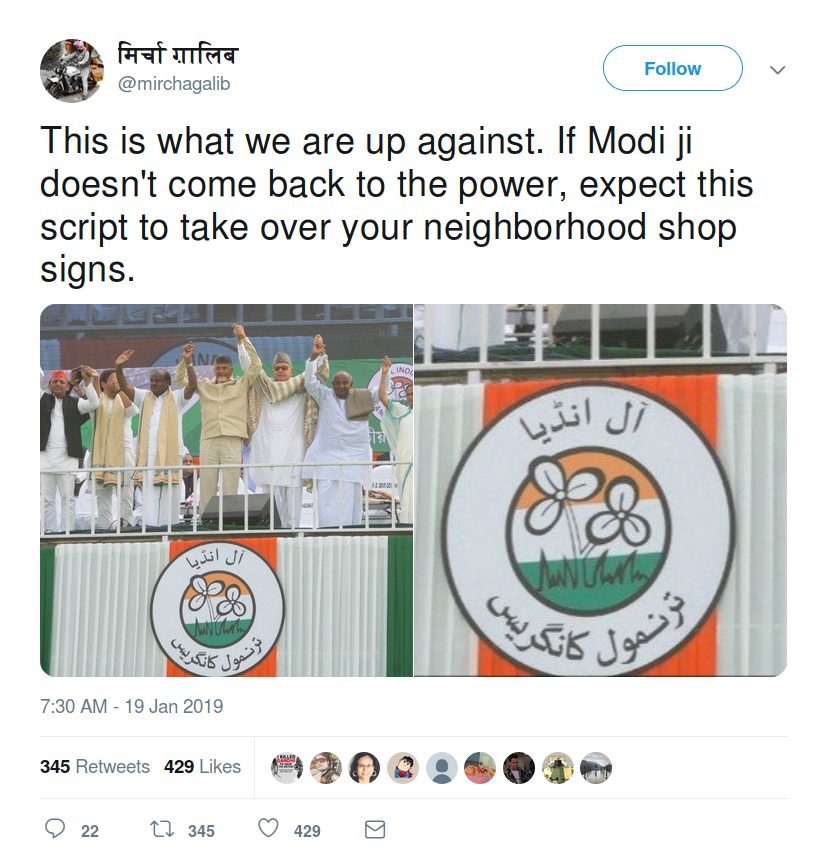 However, Alt News found that the image of opposition leaders holding and raising hands to show unity was mischievously cropped. The stage also had AITC's logo in other languages such as English and Hindi. The claim was earlier debunked by an individual Twitter user, @Pun_Starr.
#UnitedIndiaAtBrigade pic.twitter.com/2qIPhL1GVz

— All India Trinamool Congress (@AITCofficial) January 19, 2019
In conclusion, Mamata Banerjee's statement was based on an out-of-context screen grab from a longer broadcast to mislead social media users. Then, a cropped image of the United India rally's stage was used to suggest that opposition leaders will promote only Urdu across India, if voted to power. Earlier, a doctored video of Delhi CM Arvind Kejriwal with the claim that Modi and Amit Shah will ruin Pakistan if voted back to power, was circulated on social media.
[source_with_link url="https://www.altnews.in/fake-news-about-modi-govt-to-print-currency-notes-featuring-former-pm-late-atal-bihari-vajpayee-shared-on-social-media/"]AltNews[/source_with_link]