NEW DELHI: Arnab Goswami's Republic TV channel on Saturday acted with dignity when it quickly apologised for wrongly calling a noted Jamaat-e-Islami India chief Maulana Jalaluddin Umri a terrorist.
In contrast, CNN-NEWS18 channel owned by Mukesh Ambani's Reliance Group has chosen to issue an extraordinary clarification in response to allegations of blasphemy by Muslim groups.
The statement by CNN-News18 defended its decision to broadcast the three most revered mosques (Makkah, Madina and Al-Aqsa) for Muslims under the 'JeM terror factory' headline.
The statement said that any criticism should be directed at the Jaish-e-Mohammad (JeM), since the channel had sourced the images of the Holy mosques from the outfits's propaganda video.
The statement said, "The footage used in our broadcast is clearly watermarked with a JeM logo and was clearly referred to as a propaganda video. The use of the video has drawn ire from certain quarters. But given the context it was used, any religious offence and outrage should be directed at the JeM."
Clarification on a story aired by CNN-NEWS18. pic.twitter.com/NczqaMkCSq

— CNNNews18 (@CNNnews18) March 4, 2019
In its broadcast on Saturday 1 March, the CNN-News18 channel flashed images of the Grand Mosque in Makkah, Masjid-e Nabawi in Madina and Al-Aqsa mosque implying that they were part of Jaish terror factory, the unearth the properties belonging to Jaish chief Masood Azhar.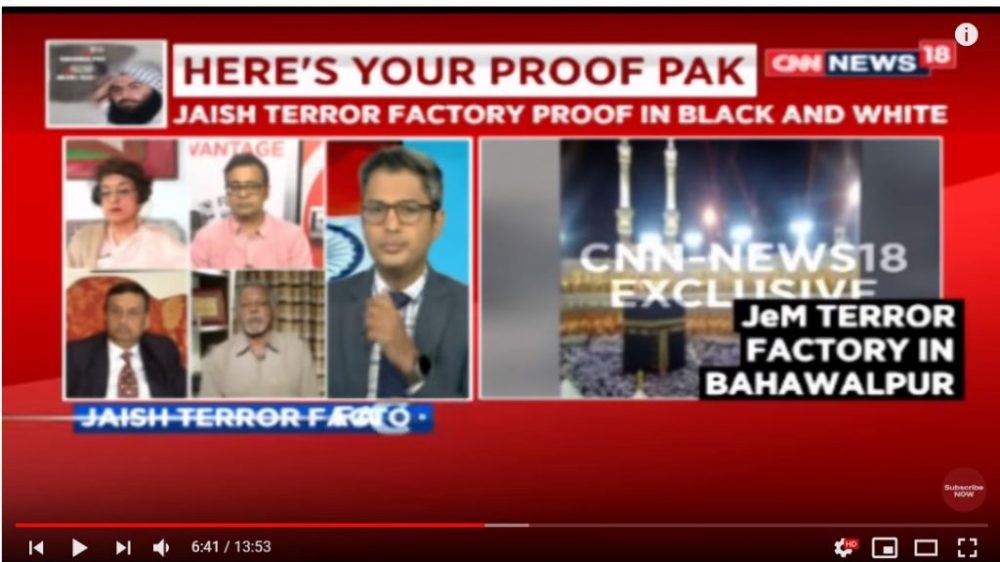 This has angered several Muslim groups with the All India Muslim Personal Law Board terming the broadcast was as mischievous to defame Islam.
AIMPLB has accused Ambani's CNN-News18 of committing blasphemy against Masjids in Makkah, Madina and Qudsa and demanded both the channel to apologise for its incredibly inflammatory broadcast targeting Muslims across the globe.
[also_read url="https://www.siasat.com/news/arnabs-republic-issues-apology-hurting-muslims-sentiments-ambanis-cnn-news18-not-yet-1473858/"]Arnab's Republic issues apology for hurting Muslim's sentiments, Ambani's CNN-News18 not yet[/also_read]
Angry reactions also evoke on social media with many accusing the channel of deliberately insulting Islam to provoke Muslims just before the elections.
Bcoz of this story IT cell trolls amplified it and spreads in WhatsApp University. This is no mistake! u guys did it on purpose! This apology to save yourself from defamation!! You ppl are real anti national who wips up communal riots. #Shame

— Nagendra(@mastodon.social) (@nagendragpu) March 4, 2019
They are trying to provoke the muslim community to help modi in elections.They should apologize to the people for spreading hate among people people, creating a divide between communities. And the biggest of them all, crimes against humanity and put them in jail.

— NEOLARDO (@demiguise77) March 4, 2019
It's clear provocation. They tried everything and Indians are not that easy to be fooled this time and now these bigots trying to play religious politics. I am just praying BJP loses and these medias brought back to terms.

— Aleem (@aleem_rahman) March 4, 2019
but u shldnt have aired the video..are u guys so dumb…? could have aired the gist…or explained otherwise ..that was plain stupidity giving platform for terrorists propaganda….

— This is Pointless (@Mad_Warrior2329) March 4, 2019
They are trying to provoke the muslim community to help modi in elections.They should apologize to the people for spreading hate among people people, creating a divide between communities. And the biggest of them all, crimes against humanity and put them in jail.

— NEOLARDO (@demiguise77) March 4, 2019
What on earth these incompetent journalist go to extent, to malign with such fake and unrealistic news they highlight to get channel TRP, creating hatred and targeting on religion.
God bless the country.

— Syed A. Pasha (@SyedGmsouth24) March 4, 2019
Cases should be filed against @Zakka_Jacob @bhupendrachaube Mukesh Ambani for sedition and creating communal rift in the country and working as Pakistani agents to further their agenda of creating discord amongst communities in India. Their broadcast license need to be revoked

— Winter is here (@WINTUR78) March 4, 2019
https://twitter.com/Amjad84038532/status/1102478063168880640