MUUMBAI: Savi Sidhu, an actor who had featured in minor roles in many celebrated Bollywood films, and is currently employed as a watchman at a building in Mumbai's Parel.
Savi is known for delivered some powerful performances in many films including, 'Black Friday', 'Paanch', 'Gulal', 'Patiala House' and 'Bewakoofiyan'.
Due to his health issues Savi was not active in movies for some time and when he finally recovered from his illness, he struggled to find work for some time and finally had to work as a watchman for the sake of livelihood.
In a social media video, which has now gone viral, Savi spoke about his struggling days and what forced him into taking up the job of a security guard.
Sidhu broke down while reminiscing about his tragedy.
He said, "My health started to deteriorate. So, I thought I will take a break and will return to films only after I am better. Then, I started losing all my loved ones. That was toughest you know. The toughest moment was when I lost my wife. The next year, my Dad passed away. Then I was informed, since I lived in Mumbai, that my mother too has died. Then my father-in-law and mother-in-law too left us….Soon I was alone in my life."
Speaking about his current Job, he said that he is struggling financially and that even watching a film in a theatre is like a dream to him.
"It is a 12-hour tough job. It's a mechanical job. I don't even have money to buy bus tickets. To watch a film in the theatre is like a dream now. My financial condition is not good," he asserted.
Shortly after the video went viral, Anurag Kashyap and Rajkummar Rao found Savi Sidhu's story of struggle rather inspiring took to their Twitter handle to applaud and send their best wishes to Savi.
Very inspired by ur story #SaviSidhu sir. Have always admired ur work in all ur films. Love ur positivity. Will def ask all my casting friends to reach out to u. Thank u @FilmCompanion for sharing his story. Perseverance is the key to overcoming obstacles. https://t.co/mITl3DsmzF

— Rajkummar Rao (@RajkummarRao) March 19, 2019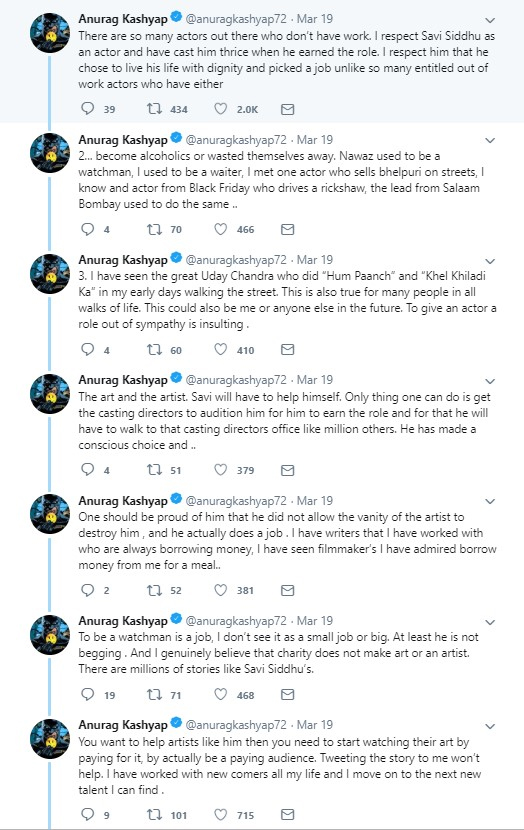 However, things are looking up for Savi. He has started receiving offers from the entertainment industry and is hopeful to get some suitable roles in movies soon.